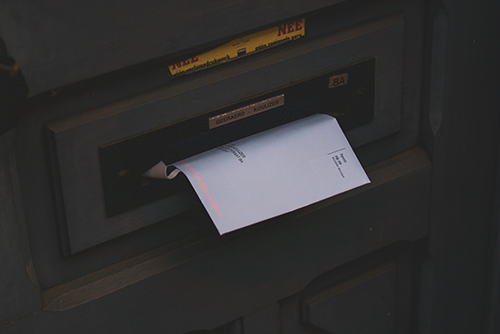 What Are the Different Types of Debt Collection Letter?
Are you owed money by an individual or a company? Are you actively looking for cost-effective ways to recover that money? Then you need to know about the different types of debt collection letters. Keep reading to find out more…
What are debt collection letters?
Before we delve into the different types of debt collection letters, we'll define what we actually mean by the term 'debt collection letter'.
A debt collection letter is a letter - usually, but not always, taking the form of a traditional printed letter which is delivered by post - which is sent on behalf of a creditor to a debtor (an individual or company) to inform them that payment of an outstanding debt is due. The letter is usually sent for the creditor by a debt recovery agency or Solicitor
A debt collection letter acts as a formal notice to the person in debt that they have a legal obligation to clear the debt in full.
Debt collection letters, which are sometimes also called letters of demand, will set out the exact amount of money that is owed by the debtor and a due date by which the creditor expects payment. Debt collection letters will also normally include the date on which payment was originally due.
What you've just read is a high-level definition of debt collection letters. However, as you'll read later in this article, there are different types of debt collection letters which are used in particular situations and contexts.
Are debt collection letters legal?
Yes. Provided that the debt is real and has accrued during the course of a legal business transaction (or transactions), then you are entitled to send a debt collection letter to a debtor.
Note, you must have first attempted to collect payment in the standard in-house ways, e.g. the raising and issuing of an invoice.
Furthermore, if you do want to embark on a debt claim, the Civil Procedure Rules stipulate that you must first send a debt collection letter of the appropriate type.
If a debt has been outstanding for six or more years, it may become 'Statute Barred'. This means that the creditor is no longer entitled to collect the debt fromthe debtor. This situation is sometimes referred to as the 'limitation period'.
The different types of debt collection letter
With all of the above in mind, we'll now take you through the different types of debt collection letters that are available to you.
What is a letter before action (LBA)?
A letter before action - also known as a letter of claim or letter before claim - is a type of debt collection letter which is considered to be the 'first step' in a formal debt collection process.
Letters before action are generally considered to be 'business-to-business' debt collection letters. In other words, they are used when a company is trying to recoup an outstanding debt from another company.
A creditor will normally only resort to sending a letter before action when all in-house debt recovery options have been exhausted (telephoning, sending email reminders, sending overdue notices in the post).
Letters before action are typically sent by a creditor's solicitor to inform the debtor that legal action will commence should the outstanding debt not be paid by a specific date.
The letter before action will restate the amount owed and the time scale by which payment is expected before legal action will commence.
Given that letters before action are penned by debt-collection solicitors, are seriously-worded, and contain an explicit statement that refusal to pay will lead to legal action - they generally receive a positive outcome for the creditor.
Note - it is important that letters before action are created by experienced solicitors. Although they aren't a formal court pleading as such, they are still crucial documents which need to be devoid of mistakes.
What is a late payment demand (LPD) letter?
Should your business be owed money by another business, it can cause your own cash flow issues.
Having money tied up in debtors means you won't be able to use that money in other, more productive areas to further grow and develop your business.
In order to prevent such situations, or at the very least allow creditors to achieve a degree of restitution, the Late Payment of Commercial Debts (Interest) Actwas passed in 1998.
This Act allows creditors to charge interest on outstanding debts.
Under the terms of the Act, where an invoice is not paid, or paid late, the creditoris entitled to charge statutory interest at the annual rate of 8% above the base rate for each day the invoice(s) are overdue.
Furthermore, under the terms of the Late Payment of Commercial Debts Regulations 2002once interest begins to run, a creditor is able to claim compensation from the debtor. The level of compensation that can be claimed isdetermined by the amount owed by the debtor.
At the time of writing, the compensation a creditor is able to claim is as follows:
| Size of unpaid debt | Compensation |
| --- | --- |
| £0.01 to £999.99 | £40.00 |
| £1,000 to £9,999.99 | £70.00 |
| £10,000 and over | £100.00 |
A creditor is able to take these actions provided both parties to the transaction were engaged in proper and legitimate business.
The first stage in collecting an outstanding debt and any interest, a creditor must send what's known as a Late Payment Demand letter.
This type of letter sometimes goes by other names, including; warning letter for outstanding payment, strong letter for outstanding payment, overdue payment reminder letter etc.
Like a letter before action, a late payment demand letter should be drafted by an experienced solicitor and should contain the following pieces of information:
The name and address of the debtor company.
The legal structure of their business e.g. limited liability partnership, limited company etc.
The value of the outstanding debt.
The amount of statutory late payment compensation that the creditor wishes to claim.
The total amount outstanding (including the compensation amount).
The date by which said amount should be paid.
Like a letter before action, a properly prepared late payment demand letter is usually sufficient to 'tip the balance' and spur the debtor to pay the outstanding debt.
What are pre-action protocol letters?
What do you do if your company is owed money by an individual? The answer is to issue a pre-action protocol letter (also called a 'letter of claim').
As per the Ministry of Justice's guidelines, a pre-action protocol in relation to an outstanding debt aims to:
'Encourage early engagement and communication between the parties, including early exchange of sufficient information about the matter to help clarify whether there are any issues in dispute'.
'Enable the parties to resolve the matter without the need to start court proceedings, including agreeing a reasonable repayment plan or considering using an Alternative Dispute Resolution (ADR) procedure'.
'Encourage the parties to act in a reasonable and proportionate manner in all dealings with one another (for example, avoiding running up costs which do not bear a reasonable relationship to the sums in issue)'.
'Support the efficient management of proceedings that cannot be avoided'.
When sending a pre-action protocol letter, the creditor (or their third-party debt recovery agency) will include key information concerning the debt, such as:
The amount of the debt.
Whether interest or charges are occurring on the debt.
Whether the debt arises from an oral agreement or a written agreement.
The details of a payment plan (if any).
Payment details to facilitate the payment of the debt.
The pre-action protocol letter should also be clearly dated and include a 'reply form', which the debtor should use to respond to the letter.
Should the debtor not respond within 30 days of the issue of the letter, then the creditor may start court proceedings against the debtor.
As with the other debt collection letters that we talked about in this article, a properly prepared pre-action protocol letter will normally achieve the desired objective of getting the debtor to pay the outstanding debt.
Thomas Higgins: debt recovery made simple
If you want to collect debts that are owed to your business, then contact us today at Thomas Higgins Ltd Solicitors.
You can instruct us online on our website or app. From there, you can issue instructions, access and review your existing cases and read copies of correspondence we have received and letters that have been sent on your behalf.
If you have any questions about our debt recovery services, contact us now.
Open an account with Thomas Higgins Limited today and make your debt recovery easy